Description
Calendula & Plantain Healing Balm is a soothing salve packed with Vitamin E. Deeply nourishing and rejuvenating, this healing balm can be used all over the body. Calendula herb and plantain ingredients help restore and calm skin, deeply moisturizing and nourishing the dermis to support healthy skin cells. Use this healing balm anywhere on the body where your skin could use some extra love and attention.
How to use: Apply a small amount of balm and rub into affected skin areas with irritation (i.e. bruises, rashes, burns, bites, cuts, cradle cap, dry skin, chapped ski, etc.)
Ingredients:  Organic Extra Virgin Olive Oil, Beeswax, Organic Calendula Flowers, Organic Plantain Leaf, Organic Castor Oil, Organic Burdock Root, Vitamin E Oil, Lavender Essential Oil.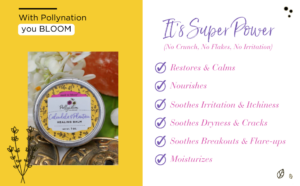 These statements have not been evaluated by the Food and Drug Administration.  This product is not intended to diagnose, treat, cure or prevent disease.