Description
This Strengthen & Stimulate growth hair tonic is all about those follicles and lovely strands.  Go from frizz to fly.  This lightweight, oil-free styler helps you look good daily while focusing on strengthening & stimulating those follicles.  Get extra slip, control, definition, and nourishment without the oils, so no greasiness.  Plus extra follicle stimulation while strengthening those stands.  Cousin to Strengthen & Stimulate hair butter.  Sister to Softening & Detangling hair tonic.  Strengthen & Stimulate growth hair tonic tonic also revives tresses between washes, tames flyaways, helps get rid of "bed head," and is great for rod/roller sets and overnight treatments.  Combine with Pollynation Apothecary Strengthen & Stimulate hair butter for added focus or Hair Milk for added hydration, definition or hold.
How to use:  Apply to dry, damp or wet hair generously. Massage into hair. Then style as desired.
Ingredients:  Water, Organic Apple Cider Vinegar, Vegetable Glycerine, Organic Nettle Leaf, Phenoxyethanol, Caprylyl Glycol, Sorbic Acid, Organic Rosemary, Organic Moringa Leaf, Organic Methi, Organic Neem, Custom Essential Oil Blend, Polysorbate 20, Guar Gum , Organic Ginger, Organic Dragon's Blood Resin.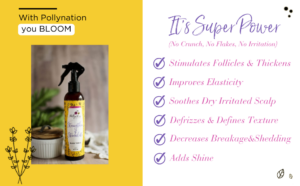 These statements have not been evaluated by the Food and Drug Administration.  This product is not intended to diagnose, treat, cure or prevent disease.