Description
Move with ease and release the day's tension, frustration, and aches. Loaded with organic herbs, this warming balm goes deep, while helping to stimulate blood circulation with chili flakes, reduce inflammation with St John's Wart & Arnica, and release toxins with Gravel Root, all while nourishing the skin.
How to use: Apply a small amount of balm and rub it into affected body areas for inflammation (i.e. aches, discomfort, tension, spasms, cramping, swelling, etc.).
Ingredients:  Organic Extra Virgin Olive Oil, Beeswax, Organic St. John's Wort, Organic Arnica, Organic Horse Chestnut, Organic Black Sesame Seeds, Organic Chili Flakes, Organic Gravel Root, Custom Essential Oil Blend.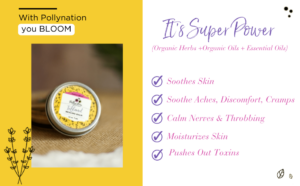 Contraindicated for pregnant women. These statements have not been evaluated by the Food and Drug Administration.  This product is not intended to diagnose, treat, cure or prevent disease.