Description
Is your hair giving you attitude?  Are your curls tight and springy? Well our Tonic On Over Drive–'TOOD Gellie leverages the top notch organic herbs used in our Softening & Detangling Tonic to hydrate, detangle, and improve sheen all while giving your waves, curls, and coils the definition & extra hold it deserves.   You can be free from flyaways and frizz, avoid flaking and buildup, and enjoy definition and softness all in one product. Rather than making your hair weighted down, hard, or crunchy, our 'TOOD Gellie sets your hair free by enhancing your hair's texture, moisture, and shine while giving you the hold you need.   So, if you prefer a cast over a cream and looking for more hold yet not a gellie with all the nasties, then this is for you.  Added bonus, no more sticky, yucky hands either.
How to use:  Apply to damp or wet hair sparingly.  Remember a little goes a long way.  Massage into hair. Then style as desired.
Ingredients:  Water, Organic Apple Cider Vinegar, Vegetable Glycerine, Organic Agave Nectar, Organic Marshmallow Root, Organic Nettle Leaf, Organic Rose Buds, Organic Chamomile Flower, Organic Bladderwrack, Custom Essential Oil Blend,  Phenoxyethanol, Caprylyl Glycol, Sorbic Acid, Guar Gum, Hydroxypropyl Methylcellulose, Guar Hydroxypropyltrimonium Chloride, Polysorbate 20.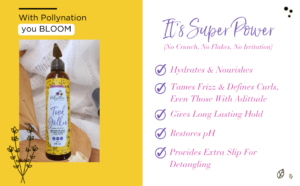 These statements have not been evaluated by the Food and Drug Administration.  This product is not intended to diagnose, treat, cure or prevent disease.