Description
Get the stronger, longer, more beautiful hair you crave with this stimulating hair butter. High-quality carrier and essential oils infused with eight organic herbs work to activate your roots and shower your locks with love, leaving hair silky, shiny, and revitalized. Herbs within nourish hair roots, giving your hair added strength from scalp all the way down to the ends.
How to use:  Use on wet or dry hair.  Rub a small amount into hair, scalp, and ends. Remember a little goes a long way.  Can even use as a hot oil treatment. Style as desired.
Ingredients:   Organic Extra Virgin Olive oil, Organic Coconut oil, Beeswax, Organic Shea butter, Organic Castor oil, Organic Methi, Organic Rosemary, Organic Burdock root, Vitamin E, Organic Ginger, Organic Neem, Organic Horsetail, Organic Nettle Leaf, Custom Essential Oil Blend, Organic Dragon's Blood resin.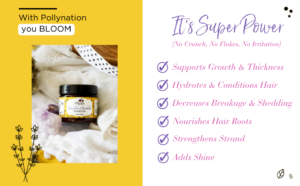 These statements have not been evaluated by the Food and Drug Administration.  This product is not intended to diagnose, treat, cure or prevent disease.