Uncategorized
Once when I was in my early twenties, my European, white, male boss said my hair (in a cute, fresh twist-out style) looked like Medusa. I was shocked, temporarily paralyzed, and totally disappointed in him. I'll just say this: I decided to keep rocking my natural hair to work. I've also had to physically defend myself against a white male engineer during a global business meeting with self-defense moves I learned from my father and brothers. Another time, a male friend at work had the courage to tell me that my very existence challenged white supremacy. So many of my former colleagues felt threatened by my presence; my 5'3", black, female presence. I didn't realize my intelligence, creativity, confidence, and ability to figure sh*t out was so scary. At this company, I was often met with racism, sexism, micro-aggressions, and even direct aggression by colleagues and those in power. I realized I was truly in a war zone and I couldn't continue putting up blinders, hoping that people would change, or coping with tension by suppressing my emotions. It wasn't safe or healthy for my physical, spiritual, or emotional well-being. My heart was hurting, and I knew there had to be a better way.
I needed to regroup and reconnect, so I started exploring holistic modalities like crystalline healing, herbalism, meditation, reiki, & prayer until I could do better. The connection I felt with these practices inspired me to bring them into Pollynation Apothecary, in hopes they could bring you the same healing I found. These solaces are all things you can lean on while you process emotional turmoil, micro-aggressions, and current events.
Bee Conscious
For centuries, racial discrimination has slowly seeped into every industry and discipline, even our personal relationships inner thoughts. Now more than ever, people are demanding change through protest and other personal acts of resistance. For so many years as a professional woman, I was hesitant to speak out against racial injustice. Even the times I wanted to, I thought better of it in consideration for what would look good or for what people at work would think. It was easy to get caught up in the "What Ifs" when I knew I was surrounded by people like my former boss. Amidst all these protests and the inspiring momentum towards change, I decided to let go of the What Ifs and embrace my values of Justice For All. So I went out to a march in Charlotte, NC and I raised my voice loudly. It was wonderful to see the diversity of people supporting peace and justice. I found that it was so vital for me to be conscious of what and how I was protesting. There were all kinds of chants, and truthfully I didn't support all of them. I made peace with myself by observing the chants I didn't support and speaking up during those I did. If you believe it, say it!
Once I spoke up, I started thinking about how my values and my platform as a business owner can align with the mission of justice. It dawned on me to lean on Pollynation Apothecary's mission and my background as a community herbalist to pull together a list of products and practices you can keep in your "Heart Kit" as you find strength and empowerment.
Heart Medicine
With everything going on in the world, take care of your heart as you process your emotions and do your internal work. Here are a few best practices to heal your heart. When you grocery shop, look for produce and other foods that are red in color. Fruits like peaches, red apples, strawberries, and rhubarb are great for your heart space. If you're looking for herbal treatments, try some valerian root, tulsi, rose buds, and hawthorn leaves or berries can uplift you through these times. Passionflower, lemon balm, and catnip are other helpful herbs and they're all ingredients in our Peace, Love, & Care Tea. Most of these herbs can be consumed as teas, cold lemonades, and herbal tinctures, or concentrated extracts. No matter what remedies you choose, make sure you're prepared. If you choose to attend marches and protests, make sure you prepare for potential toxins in the air. When you return home, take a baking soda or salt bath to rinse your skin of any harmful chemicals.
If you're searching for an alternative form of heart medicine, certain stones and crystals can help balance the energy in your heart chakra. They can enhance love, compassion, empathy, and forgiveness, all of which might help to make our world a better place. When selecting a stone, pay attention to which stones call to you. Does it catch your attention? Does it warm your hands? Are you awestruck when you see it? After your selection, meditate with your choice and and ask it how it wants to work with you. Then, explore the stone in its different forms like bracelets, pendants, and experiment with how you wear or meditate with it. So let's dig a little deeper into the best stones for heart medicine!
The Ruby speaks to the heart space with its pure red color. It promotes a clear mind, increased concentration & motivation, and brings a sense of power to the wearer. These properties can help you overcome timidity at a rally so you can push out your voice and make it heard. Rose Quartz is the stone of universal and unconditional love. It purifies and opens the heart to promote self-love, friendship, and deep healing. As you process difficult emotions during this time, the Rose Quartz stone can help you reach inner peace. Garnet is associated with strong, intense feelings. It represents unyielding strength, protection, and resistance. The Amazonite is known as the stone of hope and courage. It can stimulate your heart and awaken compassion while inspiring adventure. Rhodonite is recommended for forgiveness and honesty of speech, especially during periods of high stress. It can offer balance to arguments by showing both sides, which can help the long term health of relationships and controversy. In addition to this list, you can look into aventurine, rhodochrosite, malachite, and prehnite as forms of heart medicine. All of these properties are relevant to the stressful, emotional times we are all facing now. If you find yourself moved to attend a rally, march, or protest, bring some of these with you along with the Pollynation Apothecary products we consider essential to your kit.
Assembling Your Kit
As you attend rallies and protests, it's important for you to bring along a Heart Kit so you can help yourself and others with first aid. As you know, Pollynation Apothecary is always here to help you with consciously crafted, organic products that put your health first. After a long day of walking, our Inflamed Healing Balm can soothe your aching feet, back and knees. If you feel tension if your shoulders and neck, you can apply the balm directly to the skin. The Calendula & Plantain Balm is essential to reduce irritation if any toxins are released into the air while you're at a rally. Our Auric Essence is a calming, roll-on perfume designed to give you the right frame of mind before a rally. It's meant to ground you, connect you, and allow you to walk the path you're meant to. If you find yourself getting emotional during your acts of resistance, rub a little on your wrists and neck to find peace. After you come home, the Tone & Balance Bath Bomb can help relax you and detox your skin, especially if any gas or spray was released in the air. Lastly, our Peace, Love, & Care Tea can help to relax your senses and unwind after a protest. We just gave out our last few scoops at the Charlotte Regional Farmer's Market, but we hope to bring this favorite back online just for you!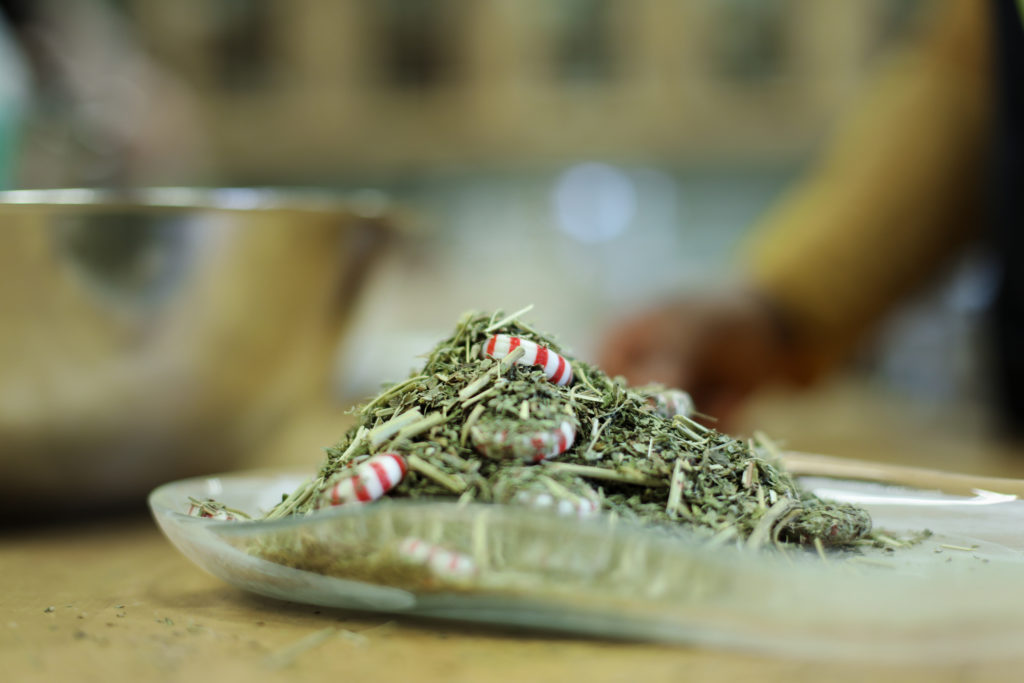 Our Vision
Above all, we want to stay true to our vision of breathing life into society with conscious products that help you embrace your best self. I founded Pollynation Apothecary to help others put their health first through holistic, plant-based, hair & skin care. Our products go above and beyond delivering physical results. Emotional and spiritual results remain at the core of our mission because we understand the importance of treating the whole self and the mind-body connection. Let's face it: we are met with many challenges each day, so we need a little extra to help us thrive and at times to just survive until we can do better. Never be afraid to regroup & focus on your needs. You are special, you have unique gifts, and you deserve the best.
These statements have not been evaluated by the Food and Drug Administration. These products are not intended to diagnose, treat, cure or prevent disease.