Tips
bloom
confidence
essentials
glow
hair care
holistic
summer
tips
Whether you're losing moisture or feeling the frizz, you can still get the summer flow and glow you're aching for with Pollynation Apothecary's summer hair tips! Charles Bowden says "summertime is always the best of what might be". In that spirit, we are dedicated to helping you look, and most importantly, feel, the best you can this season.
Summer Glow, Head to Toe
I always feel lighter and brighter during the summer. The warm weather means more time outdoors, exercise dreams coming true, and much-needed pool and beach days. Unfortunately, summertime also means summer heat, and your hair might be feeling it already. Just this week, I noticed extra shrinkage in my curls. It was a sign that I needed to hydrate my hair and myself. I started drinking coconut water, and noticed improvements within a few days. Your summer hair might manifest in different ways: no matter how you style in the morning, you come home with big, frizzy hair. Or maybe your hair can't hold any curl or any style. For you, you might find your hair thinning, changing color, or drying out. These are all signs of sun-stressed hair. Increased physical activity and exposure to the sun and high heat often lead to irritation, dehydration, and dryness all over the body. The good news is, there's still time to take control of your curls AND your confidence by following these summer tips. Click the video below for a quick recap!
Tips for the Hair
No matter your hair type or texture, it's important to make sure your hair stays hydrated all summer long. To get started, trim the ends of your hair regularly. This helps get rid of the dry, dead hair that causes those pesky split ends. It's also important to detox your hair, especially if you're highly active in the summertime. A great way to detox is to cleanse the hair once every 3-4 weeks with Pollynation Apothecary's B.L.A.C.K. soap. It may seem like it's just a body bar, but its activated charcoal is a detoxing agent for anywhere on the body. It clears out the pores and draws out toxins like excess sweat, dead skin, and other unwelcome buildups you may have picked up outdoors. You can also incorporate a diluted apple cider vinegar mask to rinse off the scalp and hair for a refreshed look.
If you feel like your scalp or your hair is thirsty, it might be time to start steaming your hair! Steam opens up your hair follicles and cuticles, allowing moisture into each and every hair strand. Before steaming, cleanse your hair with Pollynation's Conditioning Shampoo, then apply the Deep Conditioner for deep hydration and moisture. It works for all hair types, even gray, color-treated, or protein-sensitive hair. A deep conditioning treatment can help dig deep into your hair strands to hydrate the inner-most layers, leaving your hair feeling light, smooth, and silky. If you're highly active or exposed to chlorine, bump up the frequency of your Deep Conditioning mask to every 1-2 weeks. When you're ready for your steam treatment, you can either visit your stylist, or try it with your own steamer at home! If you choose this route, be careful! Steaming your hair for longer than 15 consecutive minutes can be damaging to your hair health. Once you're finished steaming, rinse your hair with cool water to help close those cuticles and keep all that good moisture in. Follow-up by layering the products below!
If your hair is sensitive to humidity, try our Hair Milk as your base, then use the Strengthen & Stimulate or Softening & Detangling Tonics to tame and style your hair daily. This combination of products will help your hair retain its moisture while giving you the control you need to stay confident all summer. If your hair is giving you major summer attitude and requires even more hold, try out the new 'Tood Gellie, a product 2 years in the making. It gives your hair nutrients, definition, and gives YOU control, without the stiffness or crunch from regular gels. While loving on your hair, don't forget to love on your scalp! For curlier, denser hair, scalp care is critical to get air circulating under your locks. Our new hair oil is coming soon to help you out. It's lightweight and loaded with vitamins and minerals to feed the hair. It busts the frizz and helps protect your strands under heat while giving it sheen. For a limited time only, you can order the Gellie and the Hair Oil in 2oz. jars for just $8 each.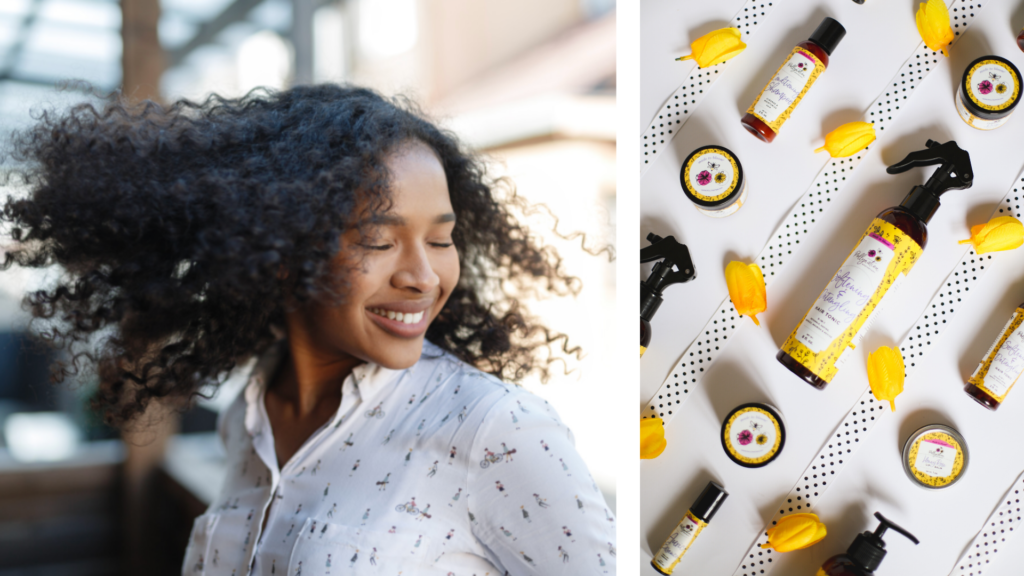 Tips for the Skin
As you're chasing your summer glow, don't forget about your skin! Whether you're worried about blemishes, cellulite, sunburn, or dryness, Pollynation has everything you need for radiant skin. The Enzymatic Soap is the perfect way to start getting your body ready for summertime! Its combination of fruits, vegetables, minerals, and natural exfoliants help polish off dead skin and improve blemishes and cellulite. We also recommend you detox the skin regularly with baking soda or salt baths, or by using our Tone & Balance Bath Bomb! These treatments refresh your entire body by removing dead skin all around. If you want to target a more specific area like the face, first apply a quick baking soda face mask for a few seconds, then wipe it away. Similarly, you can also add the Graceful Face Cream to your summer skincare routine. It's an anti-aging moisturizer, designed to penetrate your pores and give you deep, lightweight hydration without feeling oily.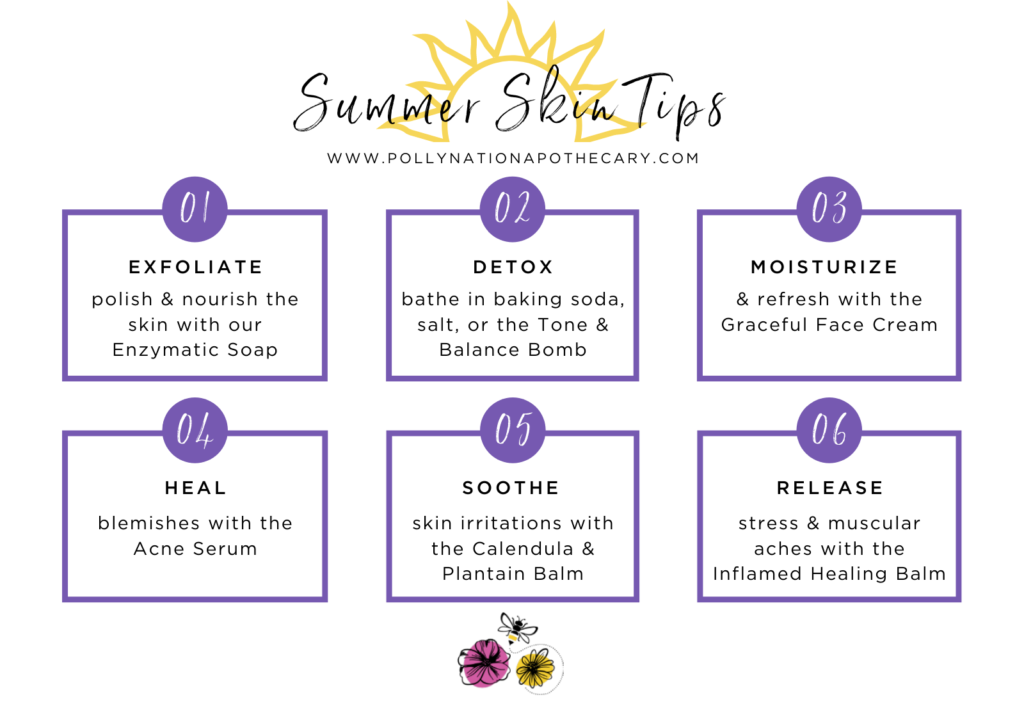 If you're highly active during the summertime, you definitely know the struggle of mosquito bites, acne, skin inflammation, and aching muscles. If you're prone to oily skin, the Acne Serum will definitely be a saving-grace this summer. Its 8 essential oils work together to fight bacteria, balance hormones, heal blemishes, and fill nutritional gaps in your skin. It's a totally portable must-have! For those stubborn irritations on the surface like burns, rashes, bites, cuts, shaving bumps, or bruises, try the Calendula & Plantain Healing Balm, a soothing salve that can be used all over the body. If you need deeper skin penetration, the Inflamed Healing Balm is for you. It stimulates blood circulation with its special blend of natural herbs, making it perfect for targeting seriously inflammation in the joints, feet, hands, back, and shoulders. These small adjustments are the best gifts to your body, and your confidence!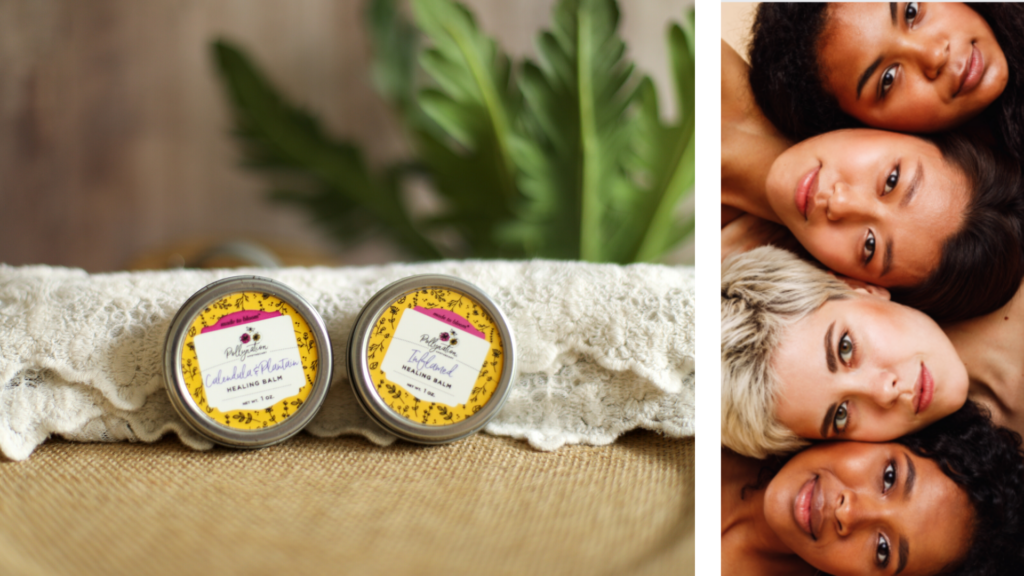 Your Summer Bloom
With all these tips in mind, it's time to say goodbye to unpredictability. As always, Pollynation Apothecary is here to give you the tools you need to look and feel your best. You can always revisit these summer tips in our Summer Hair Tips series on YouTube, or by checking out our Instagram or Facebook for all the good vibes. Your best summer starts now.
These statements have not been evaluated by the Food and Drug Administration. These products are not intended to diagnose, treat, cure or prevent disease.